The Arizona Cardinals are playing in the Super Bowl next week so this is a perfect snack to honor the occasion.
Arizona Heat Snack Mix
2 cups Corn
Chex
® cereal
2 cups Wheat
Chex
® cereal
2 cups pretzels
2 Tbsp butter or margarine
1 Tbsp
Koops
Arizona Heat Mustard
1 Tbsp honey
1 Tbsp
Worchershire
sauce
1/2 tsp season salt
1/2 tsp cayenne pepper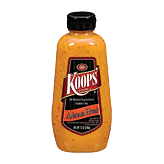 Heat oven to 250°F. In
ungreased
large roasting pan, mix cereals, pretzels and almonds. In 1-quart saucepan, heat butter, mustard, honey and seasoned salt over medium heat, stirring frequently, until butter is melted and mixture is hot. Pour over cereal mixture, stirring until evenly coated. Bake uncovered about 45 minutes, stirring every 15 minutes, until mixture begins to brown. Spread on waxed paper or foil to cool, about 15 minutes. Store in airtight container.